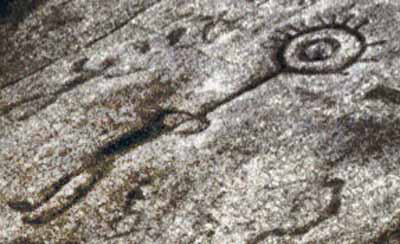 There is a crystalline marble rock outcrop approximately 55 kilometres southwest of Bancroft known around the world as the "Peterborough Petroglyphs".
As many as 900 images of animal and human forms as well as abstract symbols were hammered and pecked into the rock between 500 and 1,000 years ago by Algonkian speaking Indians, making this site the largest single concentration of native rock carvings in Canada and probably North America.
The single most impressive carving or petroglyph, because of its size, style and significance, is that of a large figure with a human body, its head portrayed by two concentric rings with 12 rays projecting from the outer ring. Academics agree that this carving is either a representation of Kitchi Manitou, the Great Spirit itself, or the most powerful of shaman receiving power from the sun.
Algonquin thinkers specifically, like European philosophers, concluded that the work of natural things could not have made itself and that there was One who made all things. They addressed him as "you that made all" and offered him tobacco and corn. He is thought of as the owner of everything. He is widely known as Kitchi Manitou, "The Great Spirit".
Spirit of Bancroft Address May 29/15
The Shrine was envisioned and created by; Doctor Walter M. Fleming and an actor, Billy Florence in 1870 in New York.

Their purpose was to create a fraternity that supported charities and stressed fun, fellowship, and social camaraderie for Mason's.

They had attended a party hosted by an Arabian Diplomat, after which they agreed that the Near East-theme color and pageantry would be a perfect backdrop for their new fraternity.

Doctor Fleming added the structure to Florence's pomp and pageantry, drafting the fraternity's name, initiation rites, rituals, rules, and language that we use in the Shrine such as; Potentate, Chief Rabban, High Priest and Profit, Oriental Guide, Temple, Nobles, Ladies, etc.

The world recognized Shriners FEZ was chosen as the Headgear and was named after the city in Morocco where it was made.
The first Shrine chapter, "Mecca Shriners" met in New York City in 1872.

Today world wide there are approximately 283,000 Shriners, belonging to 2700 clubs and 195 Temples in 7 countries; U.S., Canada, Mexico, Panama, Germany, Philippines, Puerto Rico.

In 1920 a committee was created to establish Shrine's official charity. They concluded that there should be a health care system throughout North America providing medical care at No Charge, for children with Orthopedic problems.

The first Shrine Hospital opened in Shreveport Louisiana in 1922.

Today the Shriners Hospitals for Children is one of the largest sub-specialty health care system in the world. Today Shriners "PHILANTTROPY" Financially support and Operate 22 Hospitals, 20 in US and 1 in Canada and 1 in Mexico. They provide research, training and treatment for OUR KIDS at an annual cost exceeding $750 million.

Our Kids receive all care and services provided regardless of the families "ABILITY TO PAY" including treatment and transportation. Shriners Kids can receive treatments; for injuries, and problems with bones, joints and muscles, spina bifida, cerebral palsy and brittle bone disease. The cost for the children's parents for transportation and accommodation are also covered if need be.

In 1960 Shriners entered into the field of Burn Care for children, treating Our Kids with acute flesh burns, reconstructive and restorative surgeries, helping kids with scarring or deformities caused by burns.
Presently a new Shrine Hospital for Children, is being built in Montreal, this new Hospital will be affiliated with McGill University and will provide treatment, training and research for OUR KIDS.

This new facility is scheduled to open the first week of October and is being constructed at a cost of$ I 30 million" the total cost is being paid for by the Shrine.

The Algonquin Shrine Club received their Bancroft charter in 1987, after 10 years operating as the Northern Group, as part of the Kawartha Shrine Club of Peterborough.

Both clubs are part ofthe Rameses Temple which had been formed in 1888. By 1931 Rarneses had grown to a total of 9 clubs including Ottawa, Kingston and Peterborough.

The Rarneses Temple presently has a total of 3135 Nobles, 36 Clubs, and 12 units and Encompass the area from the West side of Toronto to Kingston and north to Sudbury and North Bay.

Nobles that belong to The Algonquin Shrine Club, are from Haliburton, Minden, Bancroft, and area.

To become a member of our Algonquin Shrine Club, you must first be a master Mason in the Masonic Lodge.

The Algonquin Shrine Club meets monthly at the Wilberforce Legion for a Dinner Meeting on the third Tuesday which is attended by our Nobles and their Ladies, and as always Guests are welcome. We do not hold our Dinner meetings in July or August.

We attend, with our FLOAT and ATV UNIT almost all of the town parades in our area, as well as the annual spring ceremonial parades. That is where all new Candidates join the Rameses Shrine. This year the Spring Ceremonial Parade is being held in Belleville on JUNE 13th.

We presently have 2 major fund raising events; our golf toumarnent the end of August and our CHISTMAS CAKE SALES in November/December.

Our cake sales, as well as raising money for our Kids, also helps our local economy as the cakes are made and purchased from Linkerts Country Bakery in Wilberforce.